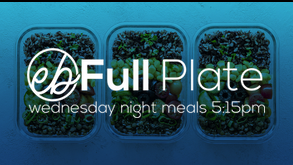 Every Wednesday, 5:15 PM - 6:15 PM
Join us on Wednesday Nights before our class times for a meal together.
Meal time is 5:15-6:15 PM
Cost is $6 per person (No family will have to pay more than $30)
Please sign up by CLICKING HERE
If you can't make it, please call the church at 423-892-1389 to cancel you sign up.
Please note we will NOT have meals on the first Wednesday of the month, which is our Snack Pack packing nights.