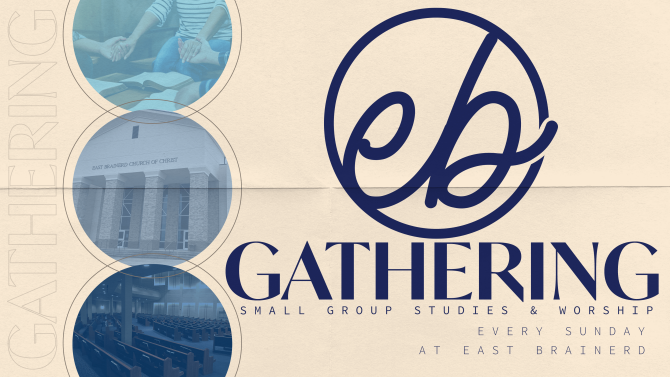 What is the EB Gathering?
The EB Gathering is a full Sunday morning experience for our church family and friends. This experience will include Fellowship with Coffee and Donuts, a time of Worship, and Small Group Studies each Sunday Morning. Join us early at 9:15 AM for FULL CUP in our lobby to have some coffee, a donut, and get to know us. At 9:30 AM our time of Worship will begin in our main Auditorium. During that time we will sing, pray, take the Lord's Supper together, and hear a message from our Lead Minister Chris Barnett. After worship Small Group Studies will begin at 11 AM in various places on our campus. We will have offerings for our Adults, Kids, Students, and Young Adults & College ages.
Our Kids ages 3 through 4th grade will also have a time of Kidz Praise in the Children's Center during our Worship time. Children will join our Adult worship and be dismissed after our time of communion and be checked in to go to Kidz Praise in the lobby.
We hope that you will make plans to join us each Sunday for this incredible time to Gather together!
SMALL GROUP STUDIES - Summer 2022
EAST BRAINERD KIDS - EBK (3 years old - 5th Grade)
Various Teachers
- Drop Children off at the entrance of the Children's Center
Nursery available for Newborn - 2 years old.
EAST BRAINERD YOUTH - EBY (6th -12th grade)
Summer Youth Interns - "Not A Fan"
-
Teen Room in Family Life Center
ADULT STUDIES
YOUNG ADULT & COLLEGE (YAC)
For June and July our YAC are encouraged to join other adult classes
"Stories of Jesus" - Various Teachers | The Overflow Room
This class will have various teachers sharing Jesus moments from scripture that have impacted their lives.
"Help Wanted: Excellent Benefits (No Pay)" - LADIES CLASS - Various Teachers | FLC Room 14
This summer our Ladies Class will have various presenters sharing ministry opportunities that our EB Ladies can participate in.
"A Survey of 'Secular Holy' Literature" - Jordan Bischell | Room 9
A Look at faith displayed in famous pieces of literature.
"Living the Resurrection" - Scott Self & Jeremy Davis | Room 10
A Discussion on living out the Resurrection of Jesus in our daily lives.
HISPANIC MINISTRY
Our Hispanic Worship begins at 11 AM in the Main Auditorium