WELCOME to the EBK, East Brainerd Church of Christ Kids Ministry. This is a place for children birth through fifth grade to explore God's word and experience the love of Jesus. Our purpose is to minister to the heart of each child, in support of the home, and to instill God's word into the heart and mind of each child.
But Jesus called the children to him and said, "Let the little children come to me,
and do not hinder them, for the Kingdom of God belongs to such as these."
Luke 18:16 (NIV)
Our Mission:
Develop a connected community of faith for children and their families.
Teach Biblical principles through our classes to build a spiritual foundation for our children.
Provide a safe environment for children to experience the love of Jesus.
Provide resources for families to aid in the spiritual growth and development of their home toward a deeper relationship with Christ our Lord and Savior.
When We Meet:
Sunday at 9:15 am
EB Kids get to participate in Wee Worship and Kidz Praise throughout the entire 9:15am Adult Worship Service. Parents, drop you child off at the entrance of the Children's Center before 9:15. They will be checked-in and you can pick them up there when Worship is over.
Wee Worship: Worship time for ages 3 and 4/5 Pre-K on of our children's classrooms in the Children Center area. Children will participate in Story Time along with reinforcement of the story with Puppets and Praise
Kidz Praise: Worship time for ages K-5th grade located in the Children's Worship Center. Children participate in Praise, Story Time, Skits and Puppets.
For More Information, Contact Our Children's Ministers
Mr. Steve (Steve Gregg)—Children's Minister

Amy DePriest – Assistant Children's Minister

Pictures with santa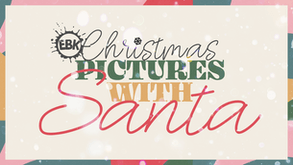 December 12th 8:30-10:30 am
This year we are providing a time for families and children to come get their pictures taken with Santa. Below you will find a link to sign up for a time slot to come get your picture taken. Slots are in 5 minute increments starting at 8:30am and will last until 10:30am.